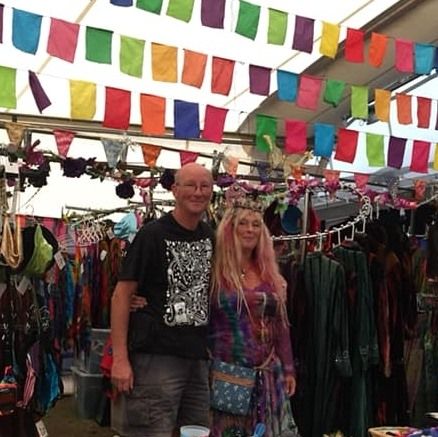 A long time ago in a galaxy far, far away...
Ok, it was Manchester. I spent Saturdays browsing and buying from fabulous alternative stores such as Oasis, Rock stop, and in Afflecks palace , I still have some of the clothing I bought back then, [though I didn't say they still fit me !] . Everything from vintage, to funky , to pvc, rock ,punk and hippy the shops were amazing .The smell of Nag champa and patchouli oil take me back to those days, those shops were just soooo magical.
More thrilling info about us.
As for our love of VW , its the way we met [soft lovey dovey music please] , I had a 1971 1302s [super beetle] , called Angus [cool rock name ] , and Ron had a beetle named Bertie [eh?]. We have owned many VWS from beetles, to T25 ,to LT35/45 , and we have traded at VW shows around the country though we only trade at a few these days. We love animals and have two rescue VOLKSWAGEN beagles [see what i did there ], they have such a ruff life , we also have a thousand year old goldfish who travelled in a old T25 [he wasnt driving by the way] from Bolton to Wolverhampton, ok i exaggerated its actually about 18 years old, It has a mission to out live us!
We love mushrooms, faeries, and anything sparkly [ok I love those things Ron is happier playing with VW parts ]. I love making solar powered water features and crafting, and erm, Rons is still just happy playing with VW parts.
The dreaded year 2020....
Well Covid-19 , has cancelled 2020 for festivals and events but as long as we all stay safe and we be sensible then we will soon be back in a field moaning about the mud ,the porta loos and those winds.
Cant wait.
Stay safe everyone , see you in a field somewhere in 2021 x