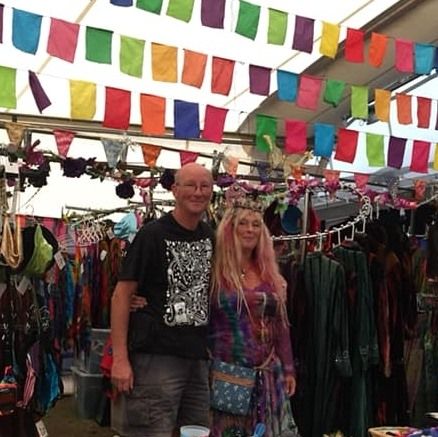 A long time ago in a galaxy far, far away...
We are a small family business based in the West Midlands, established in 2006. Starting our events journey with our passion for VWs we traded at many UK Volkswagen festivals and we met so many lovely people, our stall grew from a tiny little stall to our mega stall of 8 x 9 metres. Though we generally use a 6 x 6m stall at most events.
These days you can find us at a couple of VW festivals and mostly Music festivals, MBS events and the occasional market . We stock fairly traded clothing and accessories from suppliers in the UK, India, Thailand, Indonesia and Nepal. Over the years we have amassed a beautiful range of colourful, unusual and alternative, hippie, gothic,boho,pagan and festival clothing.
If we aren't at a festival, you will find us at home with our two Volkswagen-beagles
The dreaded year 2020....
In 2020, alot of festivals and events were cancelled due to the dreaded Covid-19. Staying safe was priority for us and our customers. We are now glad to be back at festivals and events seeing our lovely customers. We hope to see you there!